Whole House Reverse Osmosis - Ampac USA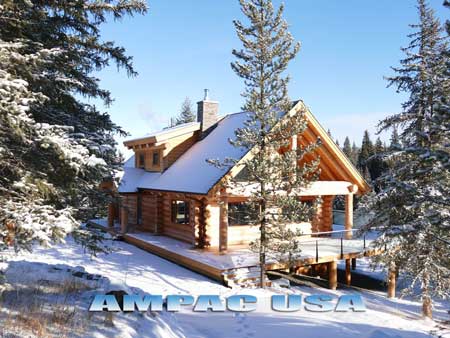 AMPAC USA offers a complete line of Whole House Reverse Osmosis Systems, these RO Systems are custom built depending on your water quality report, conditions and requirements. Ensure pure water for your entire home with Ampac's whole house reverse osmosis system. Engineered to last really long, these systems will meet all your water needs even beyond drinking and cooking. Ampac's whole house reverse osmosis filters incorporate the best components and material. With adequate pre-treatment mechanisms, they give you excellent purity regardless of the condition of your current water supply.
A whole house reverse osmosis system can work wonders for your home. Through every faucet, it'll give you the same level of purity that you will get from bottled water. This means better health for your skin, the enhanced life of your appliances in addition to safety from diseases associated with contaminated water. Ampac's whole house systems offer systemized installation which doesn't interfere with your décor. These systems are extremely durable and cost-effective as well.
Why Do We Need a Whole House Water Filter?
Well, the choice is pretty obvious because, considering the increasing number of contaminants, raw water is becoming more and more unfit for not just drinking, but for cleaning, bathing and every application that requires water. Whole house system delivers pure water through every faucet making your home totally healthy.
Benefits of a Whole House Water Filter
Filter water through all faucets at home
Gets rid of harmful chemicals from water even before it enters your home
Is great for the health of your skin and hair
Reduces water hardness which ensures better leather formation for washing
Eliminates the risk of pipe clogging
Doesn't deteriorate appliances such as water heaters, coffee machines and more
Whole House Reverse Osmosis Cost
Considering the value that it promises, a whole house reverse osmosis will always be a wise investment. The actual cost will depend upon factors like your water analysis report, the number of faucets and your consumption levels. Thanks to advanced and cost-effective production scales, Ampac has been successful in reducing the setup and maintenance cost for a whole house reverse osmosis system quite significantly.
Some of the best features of Ampac's whole house reverse osmosis systems:
Robust design that requires minimum user intervention
Excellent pre-treatment mechanisms that help you get maximum purity out of your supply.
Power Coated Welded Aluminum for added strength
Comprehensive Panel for easy operation
Extensive customizability to compensate for unique water conditions and pressure requirements
Industry Grade Material that lasts long and delivers the best quality
Take a look at our wide variety of Commercial Turnkey Reverse Osmosis options for whole house filtration. In case you want more information to establish which system will suit your requirements the best, feel free to get in touch with us by leaving a message here!