AMPAC USA is a World Market Leader and Provider of Advanced Industrial Reverse Osmosis Systems and Commercial RO Systems to efficiently improve water quality, remove dissolved solids and contaminants from water. Standard and Custom Industrial reverse osmosis systems range from 6,000 to 100,000 Gallons per day are available.
Since 1993, AMPAC USA manufactures in the USA the best quality Industrial Reverse Osmosis Purification plants, advanced water treatment, and water purification systems at the best competitive price using best industrial practice and following manufacturer's guidelines for every component, with extreme precision for custom fabrication.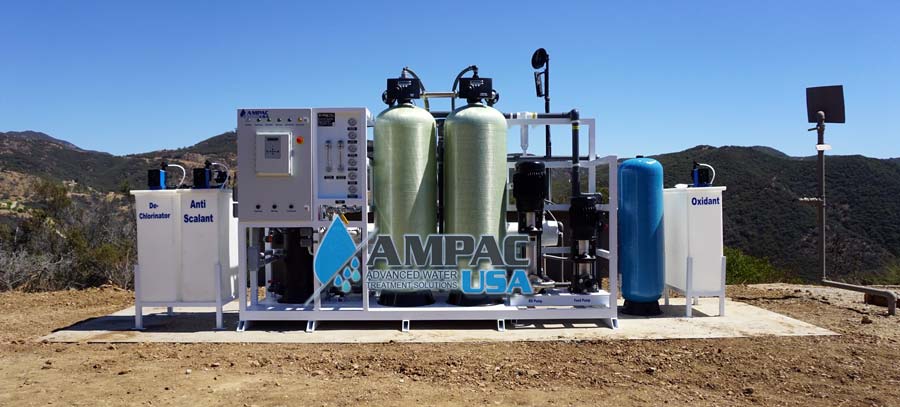 AMPAC USA Reverse Osmosis Plants (R/O) are designed and manufactured specifically to suit a variety of Water Treatment requirements. AMPAC USA is particularly noted for its highest quality, technical support, and after-sales support. AMPAC USA Engineers and Technicians are available to assist you with your specific customized applications.
These R/O plants are used in many applications such as Water Treatment for Chillers and Boilers (Tratamiento de agua para calderas), as well as High Flow Industrial Sites such as Hotels, Hospitals, Factories requiring large volumes of pure water such as in the food and beverage industry.
Industrial Turnkey Brackish Water Reverse Osmosis 80,000 GPD by AMPAC USA lets you get pure water swiftly.
View details
Mobile Brackish Water Industrial Reverse Osmosis 100,000 GPD by AMPAC USA is ready to deploy and meets giant water needs. 
View details
Industrial Reverse Osmosis 100,000 GPD, AP100K-LX by AMPAC USA meets the water needs of different industries perfectly. To buy it today, call 909-548-4900.
View details