We live in a time where every nation is facing a water crisis. In such times, we should focus on knowing which industries need a lot of reverse osmosis water and how can its consumption be reduced. One such industry that needs a lot of water is chocolate.
Most of us have a weakness for chocolate. Whether it's a choco chip cookie or a choco ice cream or a big chunk of a choco bar, we all have our indulgences. But have you ever stopped and thought that chocolate is probably one of the most water consuming industry? Yes, it's true.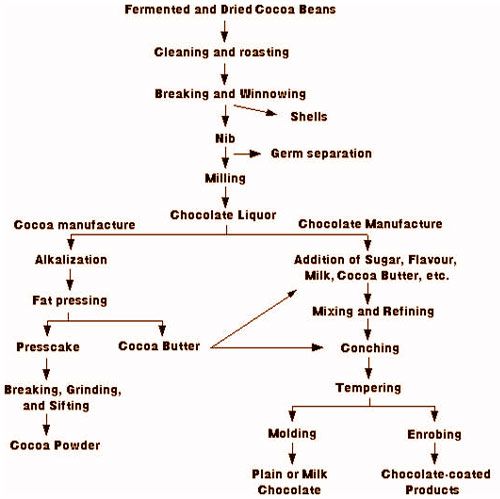 According to an estimate, it takes over 17,000 liters of water for each kg of chocolate. Though a large chunk of this water is needed to grow cocoa beans, the process of making the chocolate is also quite complicated and needs a lot of water at different stages.
Brief History
Though it is likely that we all hate history, it's important to know that cocoa has been cultivated for at least three millennia. With its origins in Mexico, Central, and South America, it was first discovered in 1100 BC when Aztecs transformed it into a beverage called Nauhati which translates to bitter water. The origins of durable chocolate can be traced back to industrial revolution because it was then mechanical mills were used to squeeze out cocoa butter.
The Statistics
While it is a fact that cocoa beans were first discovered in the Americas, around two-thirds of cocoa in the world is now produced in Africa.

Ivory Coast led the production in 2015/2016, closely followed by Ghana and Indonesia.

In 2015, chocolate had the record sales of USD 101 billion across the world.

Industry experts believe that the highest chocolate confectionery consumption per person is highest in Switzerland as estimates day a Swiss citizen roughly consumed 8.8 kilograms of chocolate in a year as compared to 5.5 kg consumed by a US citizen (in 2015).

The key chocolate producing companies across the world were Mars Inc., Mondelez International, Nestle, Lindt and Sprüngli in 2016.

According to an industry report, this lucrative market would grow at a CAGR of 2.3 percent from 2014 to 2019. Europe, North America, and the Asia Pacific will be leaders in the global market thanks to their high shares.
Chocolate Making Process
If you are fascinated by this industry, then you will surely like having a look at how chocolate is made. Just keep scrolling to learn it in a few easy steps.
Simple Steps
The Creation and Extraction Stage
Cocoa beans, the key ingredient grows on a cacao tree, and there can be 20-60 beans in a single cocoa pod.

Cocoa pods are harvested to get cocoa beans and then they are crushed and fermented. The last step takes about 6 days.

The next step is to roast, grade, ground and dry the beans.

After grounding, a liquid called chocolate liquor is created that is made of fat known as cocoa butter. It has loads of proteins, carbohydrates, proteins and some mineral matter.

Cocoa butter is then extracted, and drying helps in forming cocoa powder.

This process eventually leads to the production of cocoa powder, chocolate liquor, and cocoa butter.
The Mixing Stage
Cocoa mass, sugar, cocoa powder and airy product are mixed in a huge mixer blender.

Cocoa butter is added to soften this mixture and get desired consistency.

This mixture is passed through rollers to get thin films of chocolate that are less than 0.3 mm.

It is then kneaded overnight at around 40 degrees Celsius to ensure the paste becomes smooth and a distinct aroma of the bean is easily identifiable.
Production Stage
In this stage, different types of molds are created to make chocolate bars of different shapes and sizes.

Kneaded chocolate is then melted to reduce the viscosity.

Then the molds are filled with melted chocolate

A screen with desired pore size makes sure that the hardened chocolate isn't passed through.

Molds are also vibrated to ensure that all trapped air is removed.

Soon the chocolate is moved to a refrigeration room where cooling and solidification is done at 8-degree Celsius for 20-40 minutes within the refrigerators.

After this, the chocolate is prepared to be taken out from molds.

As soon as it is taken out, it is packed properly so that it is ready to reach retail shops and stores.
Water Consumption in this Industry
It is quite evident that pure water generated from a reverse osmosis system is needed at every stage of chocolate making, be it producing a cacao tree, cleaning cocoa at every stage or cleaning the equipment in a manufacturing facility.
So, if your company is into making this sweet treat, you should not tap the municipal water as the process needs a lot of water and this may cut down on the water available to local residents. A smart idea would be to find a natural water body near your manufacturing facility and investing in a reverse osmosis system. It will ensure that the water from any source becomes contamination free and suitable for food processing.
In case you have a growing chocolate manufacturing company and the demand for your products is reaching a new high daily then you should consider investing in a giant reverse osmosis system that can produce up to 1,00, 000 gallons of clean water every day. With this equipment within your reach, you will be among the topmost global chocolate manufacturers very soon.
To get a quote on this system or to request another custom-made reverse osmosis system, feel free to connect with the water purification experts at AMPAC USA. We will also be happy to visit your national or international sites to gauge the water needs & design and develop a system accordingly.
We are serving global brands like Ferrero Rocher and Hershey's Chocolate. Would you like to join this journey with us? Call us now!
Sources