Over the last few years, the demand for best seawater desalination products and systems has been rising steadily. Water scarcity and too much water contamination are the primary culprits. As desalination is not dependent on rainwater, it is becoming a go-to solution to several water problems worldwide.
Best Seawater Desalination Systems Actually Works?
Seawater desalination is the process of removing salt and other impurities from seawater to make it safe for drinking and other uses. This process has been used for centuries, with the first documented use occurring in the fourth century BC. With modern technology, desalination is becoming increasingly popular as a way to meet the growing demand for freshwater in many parts of the world. In this article, we'll take a look at how seawater desalination works and the different types of systems available.
The process of desalination works by forcing seawater through a semi–permeable membrane, which acts as a filter. The membrane allows water molecules to pass through while blocking out salt and other impurities. The filtered water is then collected and used for drinking, agriculture, industry, and other purposes.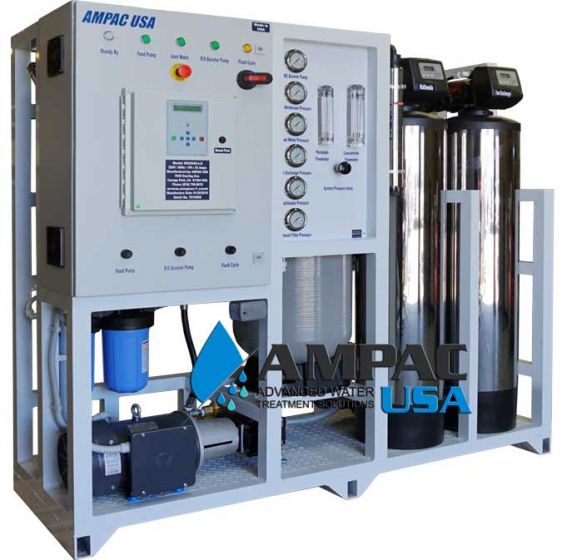 The success rate of seawater desalination is decent, as almost half of the water that goes in becomes 100% contamination free. The salt and other impurities the system has trapped are returned to the ocean using diffusers. It helps ensure that the salt concentrate gets back into the sea and doesn't impact the marine environment. The desalinated water often needs to be treated further to ensure that it meets the drinking water standards in the US and worldwide.
Best Seawater Desalination Systems FAQs
What Happens To The Salt Separated From Seawater During The Seawater Desalination Process?
As most seawater desalination plants meet all the environmental protection criteria, they are designed in such a manner that they have the minimum possible impact on the surrounding environment. The salt that is separated during the desalination process is discharged into the sea so that it mixes quickly and poses no harm to sensitive marine habitats, such as seagrasses and reef systems.
Will A Best Seawater Desalination System Use a Lot Of Energy?
You must know that seawater desalination is four times more energy intensive than groundwater collection. It is also approximately forty times more energy intensive than water from dams.
Is Seawater Desalination the Best Option?
With the amounts of freshwater resources depleting daily, seawater desalination will become the future way to get pure water. Anyone who invests in a system right now will not have to worry about getting access to clean, 100% contamination-free, drinkable water for years!
Which Brand is the Best for Seawater Desalination?
AMPAC USA is the best seawater desalination systems brand in the US. With over 30+ years of experience, AMPAC USA has been designing and manufacturing advanced seawater desalination systems or watermakers for onshore and offshore industries.
The onshore Fresh SWRO Watermakers, designed for land use, can be fed directly from the sea or any beach well, and they will convert seawater or salty brackish water to pure fresh drinking water. These Land-based watermaker systems are perfect for locations with no fresh or municipal water supplies, such as remote areas or smaller atolls and islands having no potable water sources.
Seawater Desalination Systems convert seawater fed directly from the sea into drinking water quality and suit most boats, yachts, oceangoing industrial vessels, and military ships.
Seawater Desalination makes seawater pure drinking water. For the best Seawater Desalination Systems, Seawater Desalination Fresh Watermakers, and SWRO Watermakers, contact us at 909-548-4900.
AMPAC USA also offers Emergency Portable Watermakers, Land Based Watermakers, Marine Seawater Desalination Products, Military Seawater Desalination Products, and Offshore Watermakers. To see them all, click here.
References:
https://www.ampac1.com/products/seawater-desalination-watermakers
https://www.watercorporation.com.au/Our-water/Desalination