Water is used for a wide range of purposes from as simple as bathing and washing dishes to commercial purposes like running of manufacturing plants on a large scale. Purification of water happens at a very small scale for domestic purposes but for commercial purposes, the quantity of purified water can range from 100 GPD (gallons per day) to 12,000 GPD in a single module.
See this pic, you can understand :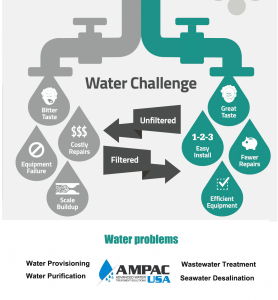 Reverse osmosis is the best water purification system required for purification of commercial water. Water for commercial is used for wide domains like:
It is used for homes where borewell water is the main source
Hydroponics
Drinking water stores
Restaurants
Coffee shops
Breweries
Wineries
Even broader domains of commercial usage of water are:
Boilers
Humidifiers
Seafood processing
Dairy products
Metal preparation
Washing for automotive
Washing for aerospace
Dialysis systems
When you are using water for commercial purposes you can't just rely on any product. The quality of products, the customer base, the market water all is put at stake when there is any kind of flaw in the quality of products.
For successful business execution and efficient quality of products you need not just any commercial water purification system, but the best. Ampac USA has been in the business of designing and manufacturing an extensive line of reverse osmosis systems for commercial-scale water purification ranging from 100 GPD (gallons per day) to 12,000 GPD in a single module, in addition to residential, military and industrial applications up to 250,000 GPD on a single module. Our reverse osmosis water purifier systems are designed for high performance with minimal energy consumption and very high recovery rate. We have suitable range for all commercial purposes.
For the best product for your commercial use, contact us today.