Purchasing a reverse osmosis system for industrial use is a vital decision as it requires you to invest a lot of money. If you are about to buy a reverse osmosis system for industrial use, we suggest you read up about 5 things to know before purchasing a reverse osmosis system for your industry.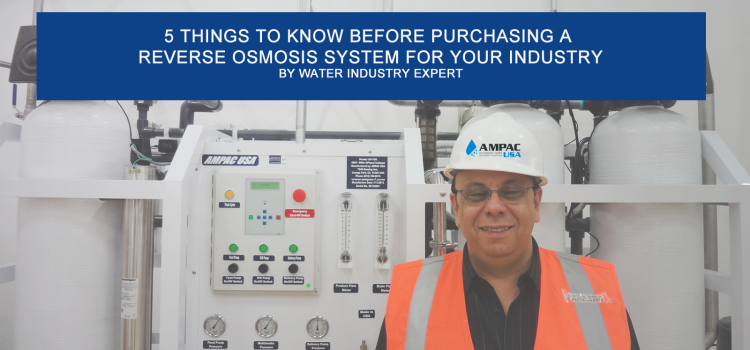 These tips will be handy for people working in different industries like hospitality and tourism, business services, retail, agriculture, beverage processing, food, health care services, financial services, education & training, construction materials & services, real estate, professional & technical services and information and communication technologies.
Quality of Source
When you need water for industrial use, you can rarely rely on the tap. You usually need water from bulk sources like a sea, lake, river, pond, etc. So when you are wishing to buy a reverse osmosis system, you should test the quality of the water source to know about the contaminants that are present in the source.
     2. Types of Contaminants
After you have gained knowledge on the types of contaminants present in the source, you should then learn about which technologies can help you get rid of all the contaminants. For instance, UV rays present in a water filtration systems are good for getting rid of the microbes while RO/UF technologies are awesome for filtering out the dead bodies and other types of contaminants.
     3. Daily Needs
Once you have decided about the contaminants and the technologies needed to get rid of them, your focus should be on deciding how much pure water you need on a daily basis. In most industries, its consumption is directly related to the production capacity of a plant. If the production capacity is high, so will the water needs. There are purification systems that can produce 30 to 5, 00,000 GPD. Pick the ones that suit your present and future needs.
    4.  Cost-Effectiveness
When you are buying heavy purification equipment that is customized to your needs, you need to ensure that you pay a hefty cost for it. Some people make the mistake of buying a cheap product and replacing it over and over again. You should not make the same mistake and instead focus on buying a product that offers you the lowest cost per gallon while not compromising on the quality of water. There are great reverse osmosis systems out there which will provide a gallon of water at just 15 cents which make them worth every dollar you spend on them.
   5. Weather Conditions
Finally, the weather conditions play a key role while selecting a reverse osmosis water purification system. If you are environment-friendly and you are seeking an RO system that uses solar power, you should be based in an area where the sun is up most of the time. Similarly, if your industrial water needs are spread across remote locations that see extreme weather conditions such as storms, tsunamis, etc. then you would be smart to invest in a product that is rugged from the outside to bear any weather conditions.
We hope our advice on 5 things to know before purchasing a reverse osmosis system for your industry will guide you in making the right choices. Good Luck!!