Raw or tap water consists of hazardous impurities such as bacteria, chemicals, salts. These contaminants can result in serious diseases.
To keep your home safe, what you need is a filtration system that does not eliminate only one type of impurity, but it reduces all kinds of contaminants. Reverse Osmosis water filter system is a solution designed to purify even the most decontaminated form of water.
Ampac's Reverse Osmosis water filtration systems are fully capable of removing a wide range of bacteria, virus and chemicals. Not only that, our Reverse Osmosis purifiers are built using the most reliable materials which help in removing extremely dangerous metals including Fluoride and lead from tap water.
Whole House Reverse Osmosis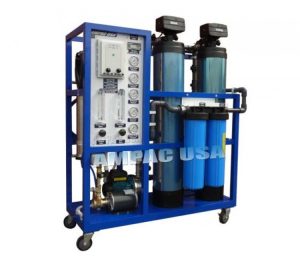 A Whole House Reverse Osmosis system extends pure water throughout your home or facility instead of being confined to just one point like your kitchen. This ensures pure water in all applications including drinking, cooking, cleaning and more. Ampac USA delivers whole house Reverse Osmosis systems which are customized to suit your requirements in the best way. We test your current water conditions carefully before a system that can adequately remove the identified impurities.
In addition to homes, our commercial Reverse Osmosis systems are widely used for hospitals, schools, restaurants, coffee shops, manufacturing facilities, offices and a lot more.
What makes Ampac USA highly reliable for Whole House Reverse Osmosis systems?
Customizability: We create an absolutely on-target water filtration and purification system depending on the contaminants present in the water source, consumption and conditions.
Quick Installation: simplicity and ease of use enable quick installation and operation so that you start using highly pure water without having to wait too long.
Low Maintenance: The materials we use are genuine and durable enough to serve you for long periods. Our equipment does not require frequent maintenance.
Under Sink Reverse Osmosis Systems
However contaminated your home water supply is, our Reverse Osmosis systems for homes will give you safe and quality water each time. Implementing the most advanced membranes, our Under Sink Reverse Osmosis Systems eliminate all kinds of contaminants from tap water. The under sink arrangement consumes very limited space and allows easy installation. Depending upon the requirement, you can choose any one out of Ampac's 3, 4, 5 or 6 stage systems.
Here's why Ampac's Under Sink Reverse Osmosis Systems are great for you home:
Advanced Features: Our purification systems come with several convenience inclusions such as quick connect fittings, integral shut-off, high flow tubing and much more.
Quick Installation: Just an hour or two and we're all set. Our Under Sink Reverse Osmosis systems come with smartly designed hardware fittings which enable easy and quick installation.
Excellent Storage & Capacity Configuration: Offers up to 100 gallons per day for your home
Highly Durable: All our systems offer unmatched durability that can withstand even the toughest conditions