Best Commercial vs. Residential Reverse Osmosis Systems: Ampac USA
Reverse osmosis (RO) systems have become increasingly popular in both commercial and residential settings due to their ability to provide high-quality, purified water. While the basic principles of reverse osmosis remain the same, there are notable differences in the maintenance requirements and best practices for commercial and residential RO systems. In this blog post, we will explore the key differences between these two types of systems and outline best practices for maintaining optimal water quality and system performance.
Best Commercial Reverse Osmosis System Company in California Provides Components and Capacity
Commercial reverse osmosis systems company in California are larger and more complex than their residential counterparts. They are designed to handle higher water demands, accommodate more rigorous usage, and are built with heavy-duty components. As a result, commercial RO systems often require more frequent maintenance and specialized professional service.
Residential reverse osmosis systems are typically smaller, less complex, and designed for lower water consumption. While this means that maintenance tasks may be less frequent, it is still essential to follow the manufacturer's recommendations to ensure the system operates efficiently and maintains water quality.
Best Reverse Osmosis Company for Commercial and Residential Maintenance
Filter Replacement: Commercial RO systems generally require more frequent filter replacements due to the increased water demand and the potential for higher levels of contaminants in the source water. Residential systems, on the other hand, may require filter changes every 6-12 months, depending on usage and water quality.
Membrane Replacement: Both commercial and residential RO systems rely on semi-permeable membranes to filter out impurities. However, commercial systems often require more frequent membrane replacements, sometimes as often as once a year. Residential systems may only require membrane replacements every 2-3 years, depending on usage and water quality.
System Cleaning and Sanitization: Commercial systems often necessitate more frequent cleaning and sanitization due to the higher risk of biofilm formation and mineral scaling. It's essential to follow the manufacturer's guidelines for cleaning and sanitization to maintain the system's efficiency. Residential systems may require cleaning and sanitization once a year or as needed based on water quality and system performance.
Regular Inspections: Commercial RO systems typically require more frequent professional inspections to ensure optimal performance and troubleshoot potential issues. These inspections may include checking for leaks, assessing component wear, and testing water quality. Residential systems should also be inspected regularly, but this can often be done by the homeowner or a trained professional on an annual basis.
Ampac USA is Best Reverse Osmosis Systems Provider Company in California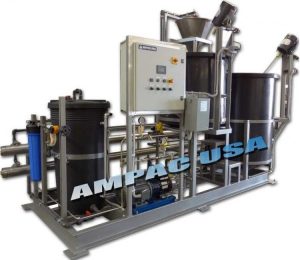 Follow Ampac USA Manufacturer Guidelines: Always follow the Ampac USA manufacturer's recommendations for maintenance schedules, filter replacements, and cleaning procedures. This will help extend the life of your system and maintain water quality.
Regularly Test Water Quality: Regularly testing the water quality at various points in the system can help you identify any issues and ensure your Reverse Osmosis system is functioning optimally.
Keep a Maintenance Log: Documenting maintenance tasks, filter changes, and any issues encountered can be helpful for both commercial and residential RO system owners. This can help you identify trends, track system performance, and plan for future maintenance needs.
Consult with Professionals: For both commercial and residential systems, it's essential to consult with Ampac USA professionals when necessary. Whether it's a routine inspection, troubleshooting a problem, or conducting system repairs, working with experienced professionals can help ensure your RO system continues to operate efficiently and provide high-quality water.
Conclusion
While there are significant differences between commercial and residential reverse osmosis systems, proper maintenance is key to ensuring their long-term performance and water quality. By understanding the unique requirements of each system and adhering to best practices, both commercial and residential RO system.
Read More :
Deionized Water Vs. Distilled Water- Everything You Need to Know